Lately I've been catching a lot of flak for one of my opinions.
I've been told I lack empathy for those that have a couple extra pounds on their frame.
Let's get this out of the way first and foremost. Being fat is a choice. It is the easy choice. Between a combination of fast food and a society that is getting more and more lethargic we are soon going to have to change the size of a standardized chair.
I got into an argument with a girl that happened to be a psychology masters student. Her argument was that sometimes it isn't a choice. She said that due to socialization, or the way we view society and how we fit into it, certain individuals are taught bad habits and perpetuate the fat cycle due to the way they were raised.
My counter argument in list form.
Step 1. Look in mirror.
Step 2. Notice you are fat.
Step 3. Make
choice
not to eat as much.
Step 4. Look in mirror again.
Step 5. Notice you aren't as fat.
Step 6. Profit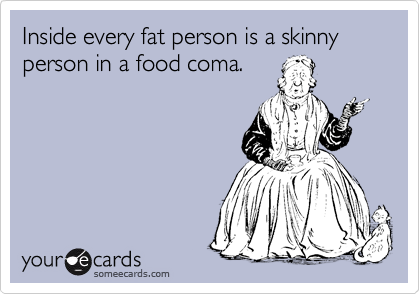 I know that this is dumbing it down to the basics, but that
is
all it boils down to. It all centers on the choices you make about how you are going to live your life. (That's why I can't judge ugly people. Being ugly isn't a choice)
Yes I understand there could be thyroid issues, slow metabolisms and the such but the basics still stand. If you want to lose fat, calories in must be less than calories out, therefore eat less and exercise more. It's called self control. I was told that there are people out there that can't help it. "I eat when I'm sad and I'm sad because I'm fat and I'm fat because I eat" was a direct quote from someone arguing against me, that I had a hard time taking seriously. I don't care if you eat when your sad. Quit being sad and be awesome, realize that everyone has potential for greatness. I don't feel any sort of pity or anything toward fat people. It's a choice. Every time they open their mouth and put more food than they need in it, they are choosing to be fat.
I think that when choosing to be fat there should be consequences. I think that fat people should have to pay more for health insurance (being Canadian this translates into being taxed more). Being fat is not healthy it cause innumerable amounts of problems and complicates other health issues as well. Why should the health care system have to carry the weight? If someone makes the choice to be fat, they should have to deal with the consequences of being fat.
Beauty is more than skin deep.
Being fat and irresponsible toward your own body is one thing but then the other day I was pointed to
this
article. That talks about parents of obese children losing custody of their kids. I totally agree. It would take that fucking bullshit "socialized to be fat" argument off the table. The child will generally be happier in life if it is taught to live a healthy lifestyle.
None if this information about why people are fat is new, yet we as a society are so focused on being politically correct and we try to treat these people as equals, when they should be treated like addicts. We try and not offend them when they don't need to be coddled. Why not offend them, piss them off, it might give them motivation to get better.
I also refuse to date fat chicks. Flat out refuse. When it comes to dating online I won't even look at a fat chicks profile for longer than it takes to figure out if she is fat or not. Why? Is it a preference? Is it superficial of me?
Absolutely not. I'm an active guy. I snowboard, go to the gym, jog, rock climb, swim, and play just about any sport that I can and have time for. I know just by looking at a "large Marge" that we have nothing in common. She could have the best personality and we could have long talks about life the universe and everything, but she would never see me because I'll be out and about doing things while she sits on the sofa watching TV and eating double chocolate fudge cake. I can tell that a girl with extra weight and I will not get along not because I'm an asshole, but because being fat is a lifestyle, and it's one I don't live.
If you've continued reading this far without wanting to kill me, I'll explain where this hard stance comes from.
I used to be the fat kid. It was part genetics, part diet, part lifestyle, when all combined worked out to me being a little larger than I should have been. I was ridiculed to the point of wanting to kill myself. I even tried to once (I was 12, clearly lacking the adult coping skills I'm talking about in this post), and fucked up my liver function for years. I didn't kill myself though and through a lot of effort, a diet change or twelve and taking up a healthy lifestyle I was able to get myself to where I am now. I'm not fat, but I'm not as "ripped" as I could be.
The way I see it, if I can change my lifestyle and make the choice to not be fat, anyone can. They just need the right motivation or inspiration to do it. Being empathetic to their "plight" is not going to do this. We as a society need to take a harder stance against obesity. So yes I let fat people know that they are fat and should work on being not fat.
I'm not insensitive, I'm sensitive to the things that matter, like health, and happiness. Stop eating as much, I couldn't really give a flying fuck if you're hungry.